Hits: 0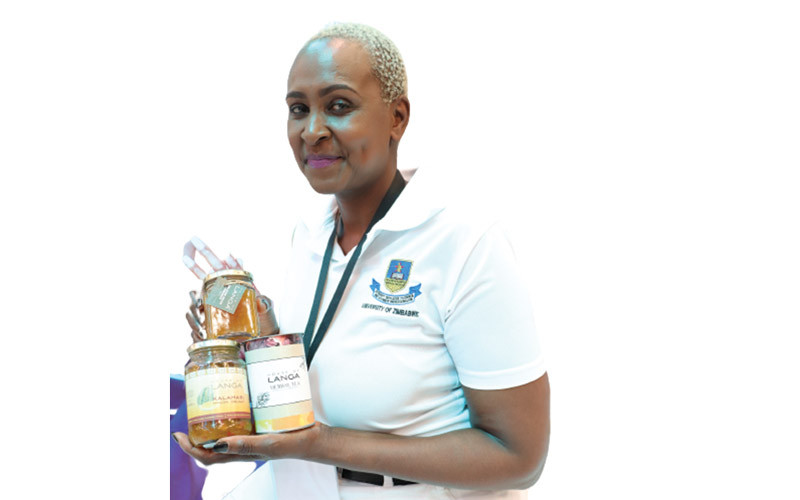 University of Zimbabwe Innovation Hub
FORMER Miss Universe Zimbabwe and  founder of House of Langa — Langa Sibanda — took part in the just-ended Zimbabwe International Trade Fair in Bulawayo where she was  exhibiting House of Langa through the University of  Zimbabwe (UZ) Innovation Hub.
"I went and pitched at the Hub my ideas and I managed to get their backing and support," she told Standard Style.
"So, the UZ has a stand and brought me too as they are showcasing innovations that they are involved in.
"I am founder of House of Langa — a Zimbabwean brand that believes in clean, honest and conscious beauty."
Sibanda said she created a natural mineral makeup line as a pro -dark skin movement because felt when she was modelling there wasn't a brand that truly catered for her beautiful dark skin.
"So starting this brand was my way to put the dark skin first not as an afterthought," she said.
"My skin matters, so it should be a priority.
"Through our makeup we have created some self-confidence.
"Our makeup leaves women glowing knowing fully well that they are using a brand that knows what they want.
"A brand that wants to deliver in its promise of self-confidence and healthier options for the skin!
"We have now expanded our range by introducing our skin care range and food line. We are an ingredient and heritage-driven brand.
"I had come across Kalahari Melin (ijodo) Seed Oil and I realised that once the oil is extracted the rest of the fruit is thrown away.
"That bothered me. I thought how do we preserve and utilise this humble fruit."
Sibanda, who hails from Kezi in Matabeleland South Province, said she also worked with support from women in the area in producing some of the products.
"You see, I am from Kezi, I thought what a better way to support my community by working with women from the area in producing this fruit that grows extremely well in dry conditions," she said.
"We now don't throw anything away from ijodo to enhance our sustainability story.
"We throw away a lot in our continent, yet with a bit of thinking and creativity we can make so much from our indigenous products.
"The government talks a lot about value addition and we have taken that seriously to better our lives and those of our communities."
The model said she had managed to produce skin care products with support from the University of Zimbabwe Innovation Hub.
"We have created a skin care range predominantly using Kalahari Melin Seed Oil and Rosella Flower, among others and I always believed that the best cosmetics should be backed by science and the University of Zimbabwe has given me that," she said.
"We are exhibiting at the ZITF showcasing our innovation and I couldn't be prouder from the feedback we are getting.
"We want to be known as the brand that believes in farm, fork and skin ethos.
"Surely, what we put into our skins should be good enough to eat. The response to our Jodo jam and pickle is crazy.
"As for our makeup they cannot believe that I make it myself. It sets comfortablly with MAC in that sense."
Sibanda holds an Honours Degree in Political Science and has won Designer of the Year award and represented Zimbabwe at the Miss Universe in Las Vegas in 1996.
She is now an entrepreneur and advocate for women's improvement and growth in business.
Related Topics