Hits: 0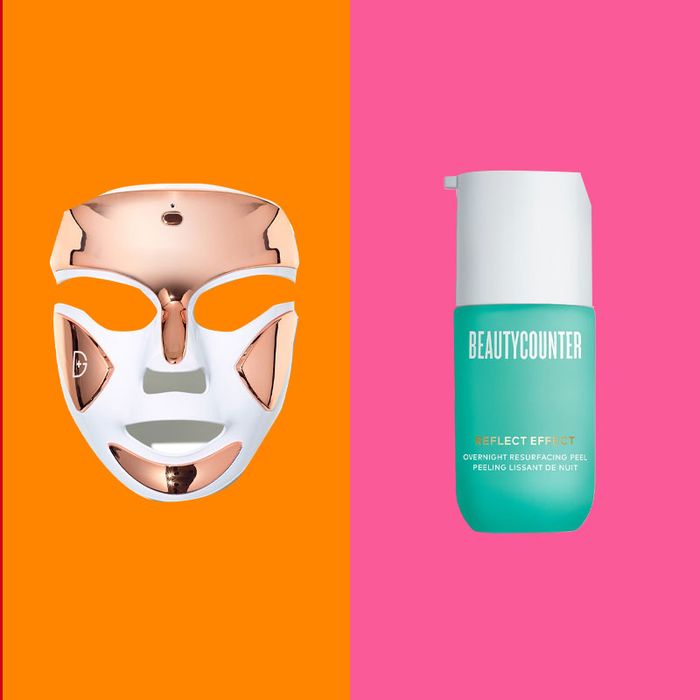 Photo-Illustration: The Strategist; Photos: Retailers
I don't remember my first kiss, but I can easily recall my first cigarette. I was 15. I got lightheaded, and I fell in love with smoking. Decades older and much, much wiser, I have mostly kicked the habit. But every now and again, my vice and I meet up for a giddy tryst — usually at a dinner party or a rowdy girls' night. Even as a "social smoker," though, I know that minimal tobacco use is an affront to my lungs and insides. But cigarettes also take a surprisingly insidious toll on the face.
A 2019 NIH study found that smokers not only get more facial wrinkles — which totally tracks — but see more hyperpigmentation, dullness, enlarged pores, and sometimes even acne. I have a delusional routine to defray some damage: I inhale and exhale out of the corner of my mouth to prevent lip wrinkles, wear a rubber glove to avoid tar stains, and brush my teeth immediately after a cigarette to remove nicotine and chemical deposits.
Those steps may or may not be helping. "The aging process just moves faster when you smoke," says board-certified dermatologist Dr. Daniel Belkin of New York Dermatology Group. "The biggest issue is that your collagen and elastin break down, which causes so many other skin issues." What's almost as damaging are the lifestyle choices that often come with the random cigarette or two. It's not like we go for a hike and have a smoke break, right? Or chase a cigarette down with a smoothie. "You're probably smoking and drinking alcohol, which causes dehydration, and staying up late too. All of that together will have a larger effect," says board-certified dermatologist Dr. Sheila Farhang of Tucson-based Avant Dermatology & Aesthetics.
With all that in mind, here are the major complexion concerns that come with smoking and the best products to fix the damage.
Ever notice a paler pallor after a night of partying? Nicotine constricts your blood vessels, which carry oxygen, immune cells, and necessary nutrients to our skin. There are beauty products that claim to boost blood flow, but Farhang is skeptical. Instead, she recommends a simple jade roller or gua sha stone to "restimulate the skin, increase circulation, and de-puff." I use my jade roller before bed and while I sip my strong coffee in the morning. Apply a slick serum or facial oil so your tool glides over skin and roll or gently scrape from the neck up and out toward your hairline five to ten times.
Just one measly cigarette contains more than 7,000 chemicals. Those toxins chip away at collagen, or the structural support of our skin and elastin, which makes the tissue supple and firm. In essence, each puff contributes to laxity and a sagging jawline. "I love this product because you get over 1,000 different antioxidants and growth factors that increase collagen and elastin production," says Dr. Marina Peredo, a board-certified dermatologist, founder of Skinfluence, and associate clinical professor of dermatology at Mount Sinai Hospital in New York. Belkin seconds that choice because "SkinMedica has good trials and scientific support for its claims."
All three MDs agree you need a more aggressive approach to soften purse-string lines around the mouth. "For finer lines, micro-needling helps to stimulate collagen. But if you have deeper lines, using injectables to do a 'lip flip' or filling in the vermilion area of the lip works better," says Belkin. (In-office micro-needling for the perioral area starts at about $500.) At home, board-certified dermatologist Dr. Leah Ansell at Treiber Dermatology Associates in Rye, New York, likes the handheld BeautyBio GloPro for its 540 tiny needles and LED light therapy. Peredo also recommends this device, but says not to expect "miracles" with at-home micro-needling. "The needles get dull, and if used over skin that has a little infection, you can just be spreading it all over," she says. She recommends you soak a derma roller in rubbing alcohol for ten minutes and let it dry completely after each use.
No matter how energetically you exhale, smoke settles on your face and irritates pores. Also, researchers correlate tobacco use with a change in sebum that results in what they call, "smoker's acne." Both red and blue light can help: "Low-level light therapy works on your mitochondrial function to renew skin on a cellular level," says Farhang, who likes the Spectralite FaceWare Pro from Dr. Dennis Gross because it's FDA-approved and calls for just three minutes of daily use. ("This one protects your eyes, and it's not one of those weirdo Instagram things that could be recalled.") The red light spurs collagen growth; the blue light destroys P. acnes bacterium that causes blemishes. I double my time to six minutes with my mask on the mornings after I smoke.
This may sound crazy, but I also apply a quick swipe of Womaness Eye Opener to my under-eyes and lips immediately after I stub out a cigarette. The coolness of the metal applicator tip instantly soothes my skin, while the natural biopolymer Filmexel visibly fills and lifts those pesky fine lines. Another ingredient, Bakuchiol (or nature's retinol), gently stimulates collagen production. "The plant-derived retinol will help with fine lines, and gently massaging the under-eye lymphatic area will help drain excess fluid buildup," says Ansell, who doesn't hate that I off-label apply around my pout: "Sure, it still has some of the same benefits," she says.
Smoking leaves your skin dehydrated and causes lipid peroxide, which chips away at the cellular makeup of your skin barrier, or protective outermost layer of epidermis. "You need to replenish and restore the skin barrier, but you really don't need to get fancy," says Farhang, who recommends derm-beloved CeraVe Moisturizing Cream for its ceramides, which lock in moisture; niacinamide, which calms the skin; and plumping hyaluronic acid. Be sure to slather it on your entire body, as Belkin adds, "Dehydration is not just about the skin on your face."
Ansell particularly likes that this formula doesn't contain hydroquinone, which can irritate skin — and there is such a thing as post-inflammatory hyperpigmentation. But the main selling point is tranexamic acid, which blocks the enzymes that cause melanin production.
Obviously, smoking has psychic consequences, too. I like to exfoliate on the nights I smoke just to make myself feel a little better. Is it just skin-care penance? Farhang says, in essence, it can't hurt — especially since secondhand smoke leaves carcinogenic residue on skin and hair. (Third-hand smoke, or pollutants that are not airborne but found on bedding, walls and clothes, can also contaminate environments.) "I prefer a chemical exfoliant with lactic acid over a physical one like a scrub, since the skin is dehydrated from smoking," she says, which means my go-to resurfacing peel fits the bill. Farhang recommends exfoliating once a week.
The Strategist is designed to surface the most useful, expert recommendations for things to buy across the vast e-commerce landscape. Some of our latest conquests include the best acne treatments, rolling luggage, pillows for side sleepers, natural anxiety remedies, and bath towels. We update links when possible, but note that deals can expire and all prices are subject to change.
The (Occasional) Smoker's Guide to Skin Care